Volunteer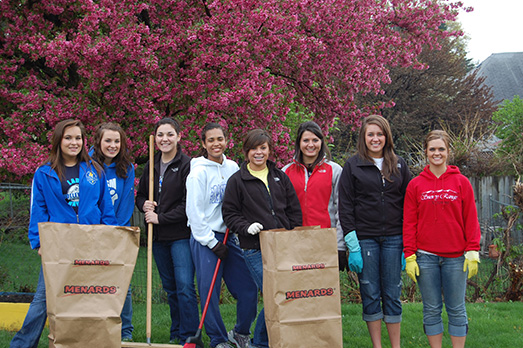 Our volunteers are the heart and soul of many of our day-to-day operations. Check out the volunteer opportunities listed below. If one (or more) of them catches your eye, fill out our volunteer application, mail it to YES and we'll find a place for you.
Provide a Meal: YES provides meals to over 600 youth a month. You can help with this service by preparing meals off-site and delivering them to our Street Outreach Center ready to be served to our youth who visit daily. This facility is open Monday-Friday with varying hours and numbers of youth served each day. Please contact the office for additional information or sign-up online.
Administrative/Events Assistance: YES serves over 1,800 youth per year. With only 28 staff members, there is much work to be done. Whether assisting our admin team or our Street Outreach Center staff, volunteers are always needed to help with day-to-day operations. YES also hosts two major fundraisers each year, the YES Annual Golf Outing and Dance for a Chance, and needs volunteers to assist with preparations.
Thrift Shop Volunteer: Donate, shop, or volunteer! Tip Top Thrift Shop is a committed partner in raising funds for YES. Help our mission prosper by sorting donations, cashiering, or assisting customers at the store. Tip Top is located in the heart of Benson at 5910 Maple Street.
Organize a Drive or Fundraiser: Organize a drive to secure items on the YES Wish List. Each program has different needs for the youth it serves. 
Mentor: Join our Mentoring program and invest in Omaha's youth. Provide support and guidance to young mothers in our Maternity Home or young adults in our Transitional Living Program. Visit our Mentor page for more information.
Maintenance Work: YES operates four apartments and homes that continually need repairs or updates from regular use.
Donation Assistance: YES receives donations of clothing and food daily. These items need to be sorted and organized so youth can easily access supplies that meet their basic needs.
Learn More: For more information on any of these volunteer opportunities, please email info@yesomaha.org.
Fill out a request for information below