The Need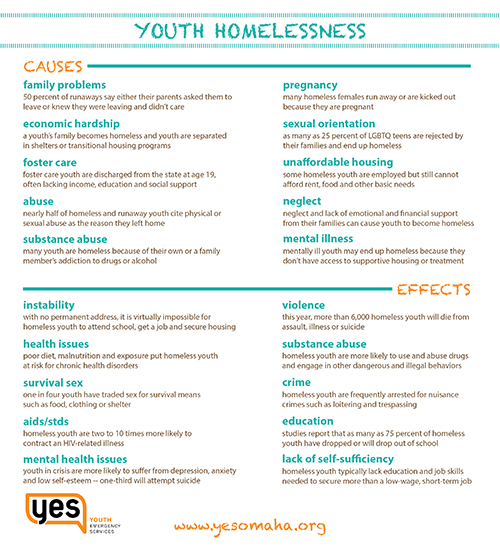 Each night, hundreds of youth in the Omaha metro are homeless. Many of these youth have been physically, emotionally or sexually abused, making it unsafe for them to return home.
Many others are facing health, mental health and substance abuse issues beyond their control. Without proper support and guidance, these vulnerable adolescents cannot succeed independently, and will likely fall into the cycle of homelessness as adults.
Youth Emergency Services (YES) exists to help these youth turn their lives around. Homeless and at-risk youth often lack positive adult interaction and are hesitant to ask for help because of this. We work to become a positive influence in each of our youths' lives and help guide them toward the road to success and self-sufficiency.
---
In addition to serving hundreds of homeless and at-risk youth in the Omaha metro, YES is dedicated to raising awareness for youth homelessness and educating our community on the issues these youth face.
Here are some numbers that might surprise you:
*An estimated 1.6 million youth are homeless each year in the United States
*A street team counted more than 400 youth living on the streets of the Omaha metro in April 2011
*Nearly half of homeless and runaway youth have been physically or sexually abused
*One in four youth have traded sex for means of survival such as shelter, food or clothing
Read below about some of the causes and effects of youth homelessness. For more information, we recommend the following resources:
National Coalition for the Homeless- Homeless Youth Fact Sheet
National Network for Youth
National Alliance to End Homelessness