Holiday Giving
The youth served by YES may not be as fortunate as other young people their age. This year, we are asking the community to help YES make their holidays merrier by providing everyday items and gifts they might not otherwise receive.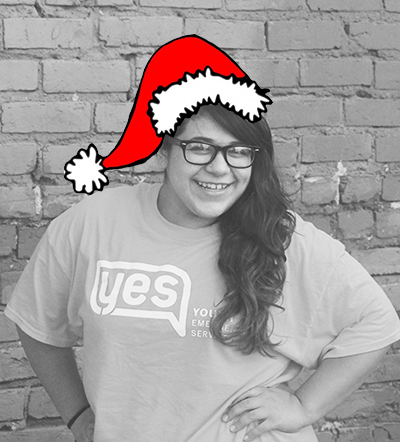 Shop for Youth
This program allows donors to give individual gifts that will be given directly to the youth throughout our programs for Christmas. YES hosts an annual "Santa's Work Shop" each year for youth through our Street Outreach Center and delivers gifts to the youth in our Emergency Shelter and Transitional Living Program. Gift ideas include toys and clothing for children ages infant to 4 years of age, gift cards to Target, Walmart, Walgreens, Subway, Burger King, McDonalds, teenage clothing items such as hoodies, shoes, wallets, or purses. For specific items needed throughout our programs, please visit the Wish List below.
Give a Monetary Gift
Allow YES to fill the greatest need in one of our programs. From purchasing last minute items for youth entering our programs  to ensuring each youth has a gift for the Holidays, your gift, no matter the size, will make a difference to a youth in need.
Give a gift in honor
Donors may give a gift in memory or honor of a friend, family member, or colleague.  A holiday card will be mailed to the honoree and can include a personal message.
If you are interested in contributing this holiday season: 
Let us know that you, your family, your company, or community group would like to be involved with Youth Emergency Services' Holiday Giving Program. Contact Maren Larsen at mlarsen@yesomaha.org or 402-345-5187. Indicate which program you are interested in, and the number of items that will be purchased.
FAQ
Q: Where can I drop off gift donations?
All donations can be dropped at our Administrative Office at 2679 Farnam Street, Suite 205. We are here Monday – Friday from  9am – 5pm. 

Q: Should I wrap the gifts?
To ensure all of the youth in our programs are receiving a gift; please deliver items unwrapped.  
Q: What are the deadlines to donate?
Please deliver holiday gifts by December 13.
Q:  How else can I help?
Gift Drive - Organize a gift drive in your office, school, or place of worship. Ask for permission to leave a collection box in the lunch room or front lobby, and send out an email asking the community to support the gift drive by donating new, unwrapped gifts.
Fundraiser - Host a jeans day or ugly sweater day to benefit YES (Be sure to send us pictures!)   
Spread the word - Forward this information to friends and family and ask them to participate. Share this page on your social media networks too!